Vandaag heb ik misschien wel een hele leuke tutorial voor jullie. Ik heb al een aantal keer de vraag gekregen hoe ik ijzerdraad verwerk in mijn gehaakte poppen. In deze blog ga ik met behulp van een paar foto's laten zien hoe je een ijzeren geraamte kunt maken voor in je amigurumi. 
Allereerst wil ik nog even vertellen waarom ik dit op mijn blog deel en niet in mijn haakpatronen verwerk. Ik verwerk het toevoegen van ijzerdraad niet in mijn haakpatronen om een aantal redenen: ik verwerk zelf alleen ijzerdraad in mijn voorbeelden om ze leuk te laten poseren op foto's en om ze netjes te houden op de beursen waar ik ze ten toonstel. Daarnaast is mijn persoonlijke mening dat een popje beter geen ijzerdraad kan bevatten als je kinderen er mee laat spelen. Als ik een popje maak wat bestemd is voor een kind gebruik ik alleen knuffel vulling. Als je het popje met ijzerdraad doet, dan wordt het vulmiddel pas toegevoegd nadat het ijzerdraad erin gestopt wordt 😉 Als je het popje alleen met vulmiddel vult, kun je vullen naar behoefte.
**************
Today I might have a lovely tutorial for you guys. I had to answer the question – how I use softwire to make a frame for my crocheted dolls – a few times already. In this blog I will explain this with help of some pictures. 
First I would to explain why I'm sharing this on my blog instead of in my crochet patterns. I am not doing the latter for these reasons: I myself only use the softwire frames to make my samples pose on pictures and to keep the dolls from wearing down too fast, since I am exhibiting on many craft fairs with them. Next to this, my personal is that its better to keep your doll without frame if you let small children play with them. If I crochet my dolls with the intention to give them to children, I only use fibrefill. If you add softwire in the doll, add fibrefill after putting in the frame 😉 If you only fibrefill you can follow the pattern or stuff the doll according to your own taste.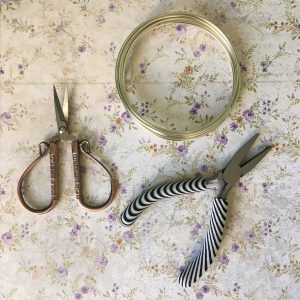 Materiaal:
Ijzerdraad met dikte van 2.0mm

Een schaar sterk genoeg om het te knippen, of een kniptang

Een platbektang om het draad netjes te buigen
Materials:
Scissors or a wire cutter

Flatnose pliers to bend the softwire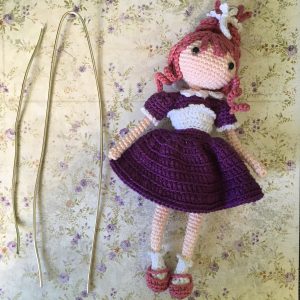 Stap 1:
Knip aan de hand van je popje, wat je haakt to vlak voor de schouders, twee stukken ijzerdraad. Ik heb voor de foto even een compleet popje ernaast gelegd. Eén stuk in de spanwijdte van de armen, het langere stuk is van teen tot hoofd en terug. Het ijzerdraad wordt toegevoegd voordat het popje gevuld wordt. Anders is het heel moeilijk om het ijzerdraad toe te voegen.
Step 1:
Crochet your doll according to pattern until you reach the shoulders of the doll. Then cut two pieces of softwire in the desired length of the doll. I have placed an already finished doll for reference. One of the pieces is the span width of the arms, the longer piece will be placed from feet to head and back. The softwire is added before you stuff the doll with fibrefill, doing this the other way around would make adding the frame harder.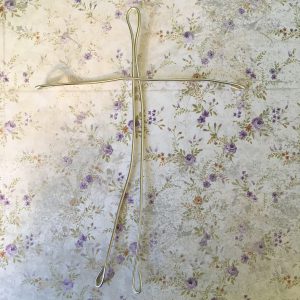 Stap 2:
Buig het ijzerdraad aan beide kanten om, zodat het straks niet door het haakwerk heen zal gaan steken. Op deze foto zie je hoe het ijzerdraad straks in het popje zal zitten.
Step 2:
Bend the softwire on both sides to make sure it cannot poke through your work later. On this photo you can see how your frame will be positioned in your doll.
Stap 3:
Gebruik de platbek tang om het ijzerdraad goed plat te buigen, zodat de uiteinden niet in het haakwerk zullen blijven steken.
Step 3:
Using your pliers, bend the ends of the frame flat to ensure the ends won't stick into the doll.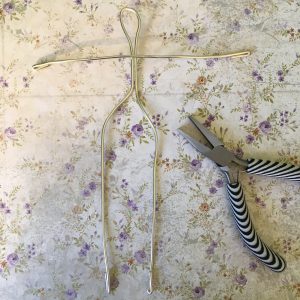 Stap 4:
Op deze foto zie je het resultaat.
Step 4:
On this photo you can see the result.
Stap 5:
Stop als eerst het lange stuk ijzerdraad in het popje en vervolgens het stuk voor de armen. Het zou er zo uit moeten komen te zien. Vervolgens vul je het popje met vulmiddel en haak je het popje volgens patroon verder.
Step 5:
First insert the longer piece of frame into the body of your doll and then insert the short piece for the arms. It should look like what the picture shows. Then stuff your doll with fibrefill and continue crocheting your doll according to pattern.
Dit was de tutorial. Je kunt je popje nu op elke mogelijke manier laten poseren. Ik hoop dat je er iets aan hebt 🙂
Liefs,
The tutorial has come to its end. You can pose your doll in every way you like. I hope it has been helpful 🙂
Love,