🌸 WINACTIE 🌸
Voor Amigurumi Special 2 van @aandehaak heb ik nog een Chibi popje uit de haaknaald getoverd, Chibi popje Tsukiko (de cover is nog onder voorbehoud) 💕 En er staat een leuk leesverhaal in over Amilishly. En om dat met jullie te vieren mag ik in samenwerking met Aan de Haak 3 exemplaren weggeven van deze special!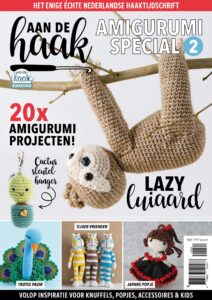 Wat moet je doen om kans te maken?
🌸 Volg @aandehaak op Instagram of @aandehaak op Facebook;
🌸 Volg mij @amilishly op Instagram of @amilishly op Facebook;
🌸 Vul het formulier in op www.aandehaak.nl/Amilishly;
🌸 That's it! De winnaars worden rond 6 april via Instagram en Facebook bekend gemaakt en zullen het magazine dan vanaf 28 april op de deurmat kunnen verwachten 🧶;
🌸 Succes!!